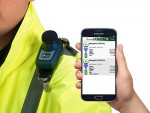 Air and noise monitoring equipment upgrades
Published: 12 October, 2020
As employees begin returning to work, maintaining a safe and socially distanced workplace is at the forefront of everyone's mind. Health hazards such as from noise and dust continue within the workplace, so personal monitoring must continue. However, it can be difficult to deploy personal monitoring equipment while maintaining social distancing. CASELLA a world-leading environmental monitoring manufacturer reports it is enabling companies to overcome social distancing challenges with a new initiative to provide equipment that allows monitoring to continue whilst maintaining social distancing.
For a limited time, occupational monitoring specialist Casella is supporting socially distanced working through its 'Trade In, Trade Up' offer, giving workers access to Bluetooth enabled monitoring equipment which can help to make practicing social distancing while undertaking monitoring.
The offer allows customers to 'Trade In' any Noise Dosimeter or Air Sampling Pump of any age and from any manufacturer* to qualify for a discount on a Bluetooth enabled Casella Noise Dosimeter or Air Sampling Pump. This enables customers to 'Trade Up' to a newer unit that can be used to allow more socially distanced workplace hazard monitoring. Casella will also responsibly recycle all equipment that is traded in.
Click here for the full release