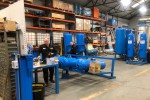 Medical gas dryer production
Published: 07 May, 2020
HI-LINE INDUSTRIES, a leading UK designer, manufacturer and installer of air/gas dryers and nitrogen generators, is lending its support to the NHS in combating the current COVID-19 pandemic.
The company's fabrication department has been working round the clock to build and despatch medical gas dryers for a number of new NHS Nightingale and existing hospitals, supplying equipment against stringent deadlines. As key workers in the crisis, the service department is remaining open to support the NHS and customers in essential industries such as medical, healthcare and food manufacturing.
Hi-line Industries, founded in 2000, says it has established an enviable reputation in energy-efficient air/gas purification equipment. The ISO9001-certified company, which is a member of the British Compressed Air Society, is based in Burton-upon-Trent and supports the 'Made in Britain' campaign. Solutions from Hi-line, including critical medical gas equipment, are designed and built to the highest quality standards, and backed by a five-year warranty.
These factors proved pivotal in the company's selection to help combat the current pandemic. For instance, at the new 500-bed Birmingham Nightingale Hospital, Hi-line has supplied critical nitrogen generators and medical gas dryers. The company's medical gas dryers are built as duplex units, so that in the extremely unlikely case of failure, a second dryer comes on stream. Such failsafe operation is paramount in medical industry applications, where any issues can potentially be a matter of life and death.
t: 01283 533377
e: enquiries@hilineindustries.com
Click here for the full unedited version of the release as provided by the company