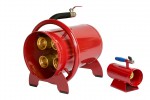 Ventilation and extraction without moving parts
Published: 25 September, 2020
SECOMAK says featuring no moving parts, the Clustajet is designed to be ultra-reliable, portable, easy to clean and simple to install and is perfect for transporting dust and fine debris.
The Clustajet is the safe and effective alternative to traditionally powered fans and blowers. Use in hazardous environments, such as removing fumes from an aircraft fuselage, or operating in enclosed spaces with excess moisture including sewers or tunnels.
Built with a tough steel casing, the ATEX exempt Clustajet is drop tested to 10 metres. It uses multiple Ringjets to generate a "Space Rocket Jet Effect" – ideal for ventilating or extracting.
Longer distances can be covered by placing multiple units in series along a ductwork or flexible hose. The Clustajet is available in multiple sizes to suit a hose diameter of 4", 6", 8" or 12".
t: 020 8732 1300
e: sales@secomak.com