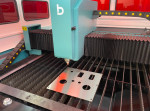 Rapid one stop engraving service
Published: 17 September, 2020
BRUNEL ENGRAVING has announced it has made a major investment in state of the art technology to significantly increase its efficiency and output, providing a rapid one stop service to the engineering industry.
The specialist engraver, reputedly one of the most progressive operators in the precision engraving and processing of metal and plastic components, has quadrupled its laser engraving capacity with the installation of two state of the art laser engraving machines at its production facility.
In addition, a dedicated 1.5kw fibre laser profiling machine which is able to cut metals such as stainless steel up to 3mm thick, will allow Brunel to cut profiles, shaped labels and control panels from pre-etched and engraved sheets.
Brunel has further invested in another rotary engraving machine to expand its production in rotary engraving work.
t: 01275 871720
e: info@brunelengraving.co.uk
w: www.brunelindustrialengraving.co.uk
Click here for the full release