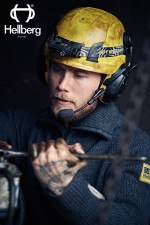 Specialist PPE
Published: 26 August, 2020
Using high quality materials, HELLBERG SAFETY says its products are developed and independently tested in real-life situations for optimal performance to deliver products that are comfortable and reliable in any risk environment.
The Secure series features everything from standard passive ear defenders, available in three protection levels to advanced electronic communication solutions.
Secure Active allows workers to communicate with colleagues, hear warning signals and other important information while staying protected from hazardous noise. Secure Relax protects hearing while listening to a favourite radio station, while Secure React allows workers to listen to AM/FM radio and communicate with colleagues while still being protected from harmful noise.
The Safe face protection range offers customised visors solutions for protection against a variety of hazards.
t: 01484 854788
e: sales@hultaforsgroup.co.uk