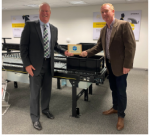 Latest AMHSA member
Published: 14 August, 2020
INTERROLL has announced successful acceptance into the Automated Material Handling Systems Association (AMHSA). For the past 30 years, AMHSA—now with over 50 members—has acted as the voice of the United Kingdom automated material handling industry.
The association is committed to promoting excellence in the automated material handling industry in terms of solutions, after-sales support, reliability, and safety.
Interroll a leading global provider of material flow solutions, says it will be able to further improve business operations as well as contribute to industry-shaping surveys, publications, and white papers.
"Interroll will benefit from the wealth of resources and access to collaborative support from the well-respected association, AMHSA", said Hilton Campbell, MD "We look forward to enhanced networking and best practice sharing opportunities with the other members and professionals in intralogistics in the near future."
t: 01536 312770
Click here for the full unedited version of the release as provided by the company