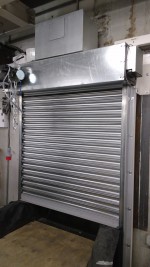 Specialist baggage handling system
Published: 29 November, 2018
HART DOOR SYSTEMS reports it has supplied eight fire shutters to form a specialist baggage handling system as part of Malta International Airport's €12m terminal reconfiguration project.
The company says the upgrade is designed to improve efficiency in handling over 16,000 tonnes of cargo and enhance the experience of 6 million passengers annually.
John Loftus, Hart's international estimator, said: "Having once again been chosen as preferred supplier to integrate our door systems to form this specialist Baggage Handling System, it demonstrates our expertise and reliability in security and fire control solutions, not to mention passenger experience."
Hart is highly experienced in airports having supplied safety, fire protection and security solutions to over 40 Airports worldwide.
t: 0191 214 0404