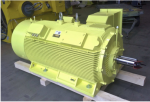 Backing for customers during testing times
Published: 01 July, 2020
During the recent lockdown period, MENZEL GREAT BRITAIN says it has served UK customers in emergencies, backed by a unique stock base from Menzel Elektromotoren, Berlin.
A challenging but rewarding time for Menzel GB, who says over the last quarter it has supported customers in need from all areas of the UK serving such varied industries as cement, mining, water industry, petrochem, steel, landfill and biomass power.
The company says equipment supplied during lockdown range from a 21kw Slip ring motor to an 800kw ID Fan motor, to the largest machine supplied to the UK market, a 12MVA, 11kv, 4pole generator for steam turbine application delivered 14 days from PO including site modifications/testing.
t: 01664 500844
e: martin.rooney@menzelgb.co.uk
Click here for the full unedited version of the release as provded by the company