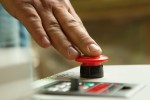 Start Up Issues?
Published: 24 June, 2020
RADWELL can support customers with replacement automation parts and repair solutions.
COVID-19 has created a situation where machinery has been switched off for longer periods than ever before. 'Start Up' can then cause its own problems with parts including power supplies, safety bus relays, drives, inverters and potential backup battery failures for PLC's causing loss of data. Radwell is a leading supplier of automation parts and professional repair services. It stocks over 20 million new, used and obsolete parts from manufacturers including Allen Bradley, Siemens, SICK, Pilz, Omron, Mitsubishi, SEW and Schneider which are available 24/7.
https://blog.radwell.co.uk/start-up-issues-radwell-can-support-you-with-replacement-automation-parts-and-repair-solutions