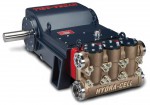 New higher pressure pumps
Published: 01 May, 2020
WANNER has announced it is expanding its range of high horsepower pumps with the introduction of two new High Pressure variants of its Hydra-Cell T200 multi-diaphragm, packing free, seal-less API674 pump.
The Hydra-Cell T200P has a flow capacity of 280 l/m and a maximum discharge pressure of 276 bar, while the Hydra-Cell TP200Q has a maximum pressure rating of 310 bar and a maximum flow capacity of 246 l/m.
As with all Hydra-Cell pumps, these two new models feature a seal-less, packing free API674 design that eliminates leaks, hazards and the expense associated with seals and packing maintenance; lowering the cost of ownership and giving an extensively longer service life than other API674 competitive pumping technologies. With overall efficiencies of 90% the pumps are said to have a lower energy cost than centrifugal pumps.
Click here for the full unedited version of the release as supplied by the company