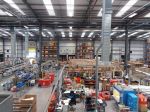 Cost-effective HVAC solutions
Published: 11 December, 2019
Premium office and home furniture manufacturer, Herman Miller was looking for a cooling solution for its thriving UK based manufacturing facility. The internationally renowned company needed a solution that would effectively cool its production line, which produces up to 900 chairs a day. With an alternative solution to air conditioning suited for this type of industrial environment, ECOCOOLING was able to provide a more effective and energy-efficient evaporative cooling solution. 
After considering several different technologies, Herman Miller selected EcoCooling's UK manufactured units for its PortalMill site. Compared to the other options, the EcoCoolers were more cost-effective, energy-efficient and were proven to work in similar industrial spaces.
Nine evaporative cooling systems were installed at the site, giving Herman Miller complete control of the air temperature and humidity levels in the assembly and manufacturing machine areas.
W: https://www.ecocooling.co.uk/
Click here for the full release