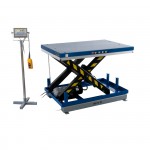 Hydraulic lifting table platform scales with height adjustment
Published: 13 November, 2019
Industrial scales are used in various areas. The scales must be equipped with a maximum of latest technology and must fulfil all requirements in terms of accuracy. Industrial scales are indispensable in heavy industry but also in the food industry.
The lifting table platform scales make a new way of weighing possible. They enable quicker, more convenient and more back-friendly loading and unloading of pallets, boxes or pallet cages.
PCE Instruments says it added the hydraulic lifting table platform scales PCE-HLTS 500 to its product range very recently and the PCE-HLTS 500 makes the work in industry and production much easier. Lifting and decreasing the height of the platform scales is very easy - by pressing a key on an external operating panel which has an up and a down key as well as an emergency stop button.
w: https://www.pce-instruments.com/english/weighing-equipment/scales-and-balances/platform-scales-kat_40079.htm
Click here for the full unedited version of the release as provided by the company