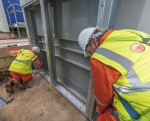 Fire and blast protection
Published: 24 October, 2019
Critical fire and blast protection barriers for new electrical transformers have been provided by passive fire protection specialist DunbarWallace Fire Protection for a leading energy provider using PROMAT DURASTEEL.
Transformers are a critical part of electrical distribution; however, they often contain oil as an insulator and coolant, fire and blast protection is required in the unlikely event of a malfunction. Due to the configuration of numerous transformers located in very close proximity, high performance barriers were required between each transformer to contain damage and prevent cascading failures.
DunbarWallace, who are one of the UK's leading passive fire protection contractors, installed the DURASTEEL E240 system from Promat UK and says it was ideally placed to work with main contractor Marshdale Construction on the most effective way to achieve assured 'fit and forget' protection.
Click here for the full unedited version of the release as provided by the company