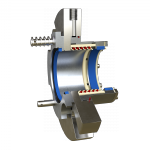 Improving water efficiencies
Published: 17 October, 2019
Water consumption is a key consideration for those looking to increase plant efficiency and reduce operational costs.
Traditional sealing solutions on centrifugal pumps such as mechanical seals and compression packings require high levels of flush water, resulting in higher overall costs for the operation of these pumps in water consumption alone.
James Walker reports it has developed a solution that drastically reduces this water consumption by utilising the flush for process control only – it is known as KlickFix and operates using multiple sealing lips, safely stored until required and then rapidly deployed with minimal process interruption.
W: www.jameswalker.biz/klickfix
Click here for the full unedited version of the release as provided by the company