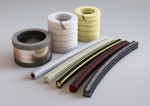 Guide to compression packing
Published: 16 October, 2019
JAMES WALKER says it is a name synonymous with sealing technology since its development and registration of some of the earliest modern packing patents and products, and throughout its history it has have remained a pioneer in this field.
The company says the James Walker compression packing portfolio is today one of the most extensive on the market, with packings suitable for higher speeds, extremes of temperature and pressure and capable of resisting aggressive media to provide a better, longer-lasting seal than ever before.
For pump shaft sealing in food and pharmaceutical applications with safe PTFE-based dry packings to heavily lubricated graphite or aramid-fibre for duties involving highly-abrasive media, the company says it's safe to say the current range offers a product for every application.
W: www.jameswalker.biz/compression-packing
Click here for the full unedited version of the release as provided by the company