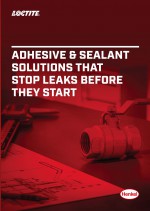 Total leakage prevention
Published: 03 October, 2019
Anaerobic adhesives are said to be the ideal choice to augment the seal or holding force of a mechanically joined assembly. They serve as thread lockers, thread sealants, structural and instant bonders, retaining compounds and flange sealants.
When designed into an assembly, these products can reduce component inventories, decrease total manufacturing costs, enhance equipment reliability and minimise aftermarket breakdown and associated warranty problems.
LOCTITE says it was the inventor of anaerobic adhesives for engineering tasks and continues to develop the technology to expand its scope of application, and to provide an overview of how these products can provide 100% leakage safety Henkel has compiled a new guide.
Entitled 'Adhesive & Sealant Solutions That Stop Leaks Before They Start', this 8-page publication uses graphics to show the wide range of applications that benefit from its adhesives.
w: www.henkel-adhesives.com/uk/en/industries/manufacturing/fluid-process-leak-prevention.html
Click here for the full unedited version of the release as provided by the company