Southern Manufacturing 2018
Published: 21 December, 2017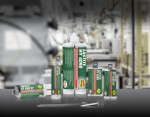 HENKEL says its adhesives continue to influence how products are designed and manufactured and none more so than its newly introduced range of LOCTITE Universal Structural Bonders. The company says what makes these products stand out from the crowd is their unique formulation and their many attributes are achieved through Henkel's patented hybrid technology to achieve bond strength, speedy cure and durability – performance qualities that historically have not been available from a single product.
Henkel says from a manufacturer's perspective the LOCTITE Universal Structural Bonders are proving able to solve a broad variety of design and assembly challenges and naturally the four products that complete this range will be featured at Southern Manufacturing 2018 – stand H165.
Structural bonding allows materials to be selected for their respective performance qualities rather than their compatibility with the joining method; plastics, metals and composites can be freely combined. The adhesive also creates uniform stress distribution across the entire bond face and as the join is relatively invisible, the aesthetics of the product are considerably enhanced. Henkel's hybrid technology adds value by combining these benefits with high bond strength and super-fast fixturing and cure speed.
Click here for the full unedited version of the release as provided by the company