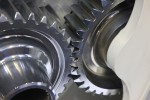 Open gear cleaning solution
Published: 02 October, 2019
TOTAL UK says its unique new service enables open gear drives to be cleaned in as little as one hour, without the need to shut down equipment, saving up to 48 hours of downtime.
Total UK reports it has become the sole UK distributor of LUBRICLEAN EP, a solvent that cleans open gears while in operation, even under heavy loads and in dusty environments. It has been developed primarily to meet the needs of customers in the cement and mining sectors.
Conventional methods of open gear cleaning usually require around two days to complete, which leads to costly downtime. LUBRICLEAN EP, developed by specialist lubricants manufacturer, LUBRILOG, can effectively remove dirt and grease from open gear drives used in a range of industrial applications, particularly mining and cement production.
t: 01977 636303
e: lubesorders@total.com.
w: www.total.co.uk/lubrilog-lubriclean-EP
Click here for the full unedited version of the release as provided by the company