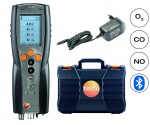 New analyser kits
Published: 06 June, 2019
TESTO has announced new to market are three Testo 340 analyser kits for commercial and industrial flue gas analysis. The company says the kits make it easier to buy a Testo 340 for a particular application and whether it's standard combustion analysis, true NOX measurement, or SO2 and NO measurement, these preconfigured kits are available through all Testo flue gas analyser distributors.
Each kit includes a hard carry case, mains charger and analyser carry strap. Probes can be chosen from a comprehensive set ranging from standard probe with thermocouple, to engine probes with built in particulate filters and ceramic probes for high temperature applications. There's even a heated probe option.
Test 340 analysers also come with a built-in dilution feature to enable measurement range extension.
Click here for the full unedited version of the release as provided by the company