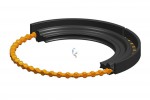 Clamp seals provide secure connections
Published: 06 June, 2019
Freudenberg Sealing Technologies reports it has unveiled a series of newly developed clamp seals that ensure rapid and extremely secure tube connections in food and beverage production machines that are required to operate on a continuous basis.
The company says using the new seals allows customers to eliminate the expense of converting connections to a 'hygiene flange' in accordance with DIN 11864, while undesirable over-compression into the interior of the tube connection is averted. In addition, the seals are especially easy to install and re-separate as, by the defined compression, any 'sticking' on the flange is contained. The new clamp seals are available from authorised distributor DICHTOMATIK, provider for Freudenberg's food and beverage related products in the UK.
Development of the clamp seals has been prompted by the lack of pre-defined compression provided by conventional alternatives. This deficiency results in a portion of the clamp seal protruding into the internal tube connection space once a flange connection is sealed.
To exacerbate the situation, the industry's lack of guidelines for torque and force application during mounting mean it can be challenging to achieve the optimum amount of sealing element compression. Any part of the seal protruding into the product space not only reduces the internal tube diameter, but prevents effective cleaning, a critical factor in the food and process industries.
t: 01332 524422
e: fst-food-beverage@dichtomatik.co.uk
Click here for the full unedited version of the release as provided by the company