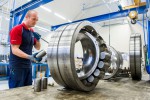 Careful bearing management boosts performance of rotating equipment
Published: 17 May, 2019
Taking a proactive approach to bearing health can reap dividends in manufacturing, with one company reporting annual savings of around £2 million.
Rotating equipment, be it lathes, fans or turbines, sits at the heart of the manufacturing industry. Maximising its performance is critical to overall machine efficiency.
Performance demands are different for each business. However, in each case the main objective is to boost machine reliability and output, while also driving down total cost of ownership.
No easy task it would seem, but it can be achieved by careful management of the most fundamental component within rotating equipment: the bearing. Using the latest techniques, such as condition monitoring, and receiving the right expert advice, can help to optimise rotating equipment performance (REP). This, in turn, can increase availability, performance rate and quality.
Digital is key
Digitalisation is a key part of the modern industrial landscape: the Internet of Things (IoT) connects machines together, while Big Data offers new insights into machine performance. Applying these in the correct way can ensure that operations run more smoothly, with less downtime and maintenance, and greater productivity.
Bearings are fundamental to REP and getting the basics right can have a huge effect on overall performance. Cutting bearing failure, and subsequent breakdown, has a huge effect on performance.
However, before anything else, manufacturers need to assess where they are, by benchmarking their existing processes. This highlights key areas for improvement that, once solved, can help set achievable targets for machine availability, production, cost of maintenance and total cost of ownership (TCO).
Accurate detection
Once this is done, a key technique to ensuring ongoing efficiency is accurate detection and diagnosis of faults, especially if it can be done before they happen. Here, a proactive approach to maintenance, using condition monitoring techniques such as vibration monitoring, ensures that any deterioration in bearing health is instantly flagged up.
This kind of proactive system ensures that maintenance procedures are more streamlined. Rather than performing maintenance at fixed intervals, or waiting until systems break down, this keeps a constant watch on components to ensure their failure does not lead to further problems.
One cement industry customer saved a huge amount in potential downtime costs with proactive condition monitoring. This prevented costly unplanned downtime and loss of production, plus efficient planning of spare parts availability. In one case, early detection of a defect in a critical cement mill application avoided loss of production costs running at £750,000 per day, on parts with a 26-week lead time.
Proactive gains
Running this type of proactive maintenance regime not only streamlines the maintenance process itself, but also helps solve ongoing problems. For instance, SKF helped one customer in the oil and gas sector to identify the root cause of recurring fan failures. By eliminating unplanned downtime, the programme saved the company more than £2 million per year.
One element often overlooked in bearing management is remanufacturing. When bearings fail - an inevitable part of manufacturing - they must be replaced. However, in many cases, existing bearings can be repaired and refitted. As well as reducing costs, remanufacturing has other advantages, such as maximising uptime and reducing environmental impact.
In one case, a 1,000MW coal-fired power station identified six pulveriser roll wheel bearings that needed replacing before the pulveriser could return to service. Rather than supply new bearings, SKF remanufactured the existing ones. As well as saving the plant nearly £7,800, the fast turnaround avoided five months of potential reduced power production, which would have cost the company more than £750,000.
Bearings may be a small element within the wider context of manufacturing, but it's true to say that taking care of them properly can reap huge dividends at the end of the day.