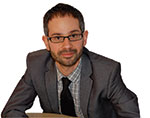 Creeping 4IR complacency
Published: 11 October, 2018
Prioritising the rapid digitalisation of UK manufacturing and the economy as a whole is at the heart of improving industry's overall competitiveness, and predictive maintenance - the anticipatory servicing of machinery and plants - has a key role to play within any smart strategy.
This was recently highlighted at Euromaintenance 4.0 Conference and Exhibition in Antwerp, which I attend last month. I was extremely encouraged by the enthusiasm and desire of the pan European audience to understand how IoT and predictive analytics are bringing unseen possibilities in maintenance, reliability and condition monitoring.
The event highlighted how intelligent, connected machines will create efficiencies in maintenance through being able to predict failures and trigger maintenance activity autonomously, without any manual intervention, working in the background, monitoring the temperature of bearings, the purity of hydraulic oil, the power consumption of electric motors and numerous other operating parameters. If things start to go wrong, they quickly raise the alarm so that plant operators can take early action to prevent outages and production downtime.
Therefore integrated maintenance strategies, such as condition monitoring systems are integral, and this is why manufacturers need to make the most of the new technological opportunities. Unfortunately though, in the UK there is still a significant lack of understanding about how maintenance fits into a 4IR strategy and how to make a business case for it. The creeping complacency surrounding 'Industry 4.0' is also making the argument to invest far more difficult than it should be. But it is very clear if you look across the globe that it is a matter of when not if manufacturers invest in such technologies in order to be able to thrive over the next decade. It is no longer enough to simply shrug off digitalisation as a fad or 'doesn't affect me' perspective – time is not on UK Industry's side. It would be better to embrace the opportunities digitalisation presents now to be at the forefront of the smart era rather than as a bystander.
New digital technologies are rapidly transforming European manufacturing now, and investment in 4IR technologies, is absolutely vital to achieving a step change in UK manufacturing productivity in order to create better living standards and setting the foundations for a more vibrant future for the next generation.
Aaron Blutstein
Editor