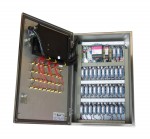 Own-design condition monitoring system
Published: 03 May, 2019
A Monitran-designed 32 channel condition monitoring system will be the star of the company's stand at Maintenance Bilbao this June. The MTN/5032 can monitor velocity, envelope g and temperature across all channels.
The company says the versatile microcontroller based system has an easy-to-navigate touch screen that enables users to set thresholds and delays for alarms individually or across all channels, as well as data sampling periods, ranges and accuracy levels.
The channels are configured to customer specifications and offer 12 bit sampling, with an input range of 25 mm/s for velocity and 10 g for envelope g as standard. Temperature channels, which can be used to monitor bearings or gearbox oil for example, can monitor up to 100°C.
t: 01494 816569
e: info@monitran.com
Click here for the full unedited version of the release as provided by the company