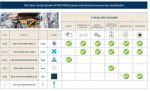 Safe handling of lubricants
Published: 25 April, 2019
Belgian lubricant manufacturer WOLF OIL CORPORATION has announced it has developed a range specifically for the construction industry that optimises operating times, improving the efficiency of the machinery fleet.
The company says the lubricants offer a very long service life, a high degree of wear protection, a wide range of applications and colour-coded symbols ensure safe use and easy handling. The use of specific symbols and colours helps users to select the right lubricants for the specific components and applications of their construction machinery. This not only ensures quick and easy handling, it also increases operational safety and reliability and makes stock control simpler.
As part of its Complete Off Road Solution Concept, Wolf Oil offers its customers a comprehensive fleet analysis and draws up a detailed lubrication plan for each machine.
t: +31(0)402 110110
e: loes@mills-advertising.com
Click here for the full unedited version of the release as provided by the company