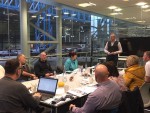 Noise Awareness Course
Published: 04 April, 2019
PULSAR INSTRUMENTS, noise expert for 50 years, says its customers can find out everything they need to know about measuring and managing workplace noise .
The company says its one day Noise Awareness training courses are for anyone responsible for the health and safety of employees under the Noise at Work Regulations. The focus is on helping people understand the issues relating to the legislation, measurement and control of noise in their workplace. The course is suitable for anyone new to noise measurements or those in need of a refresher.
The next course is on 11 June at the Birmingham Science Museum and new for 2019, now includes training material on Audiometric Testing in the workplace from guest presenters, Workscreen.
t: 01723 518011.
w: www.pulsarinstruments.com/en/product/Noise-Awareness-Training-Course
Click here for the full unedited version of the release as provded by the company