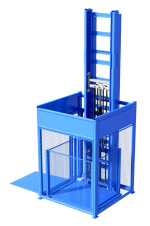 Safe, vibration-free lifting from new mast-driven lift
Published: 19 February, 2019
The latest addition to the Hymo range of mast-driven lifts (MDLs) for industrial applications provides safe, vibration-free and high-capacity lifting up to 9m.
Hymo's family of MDLs has been making the vertical transportation of goods safer and more efficient for many years. These products guarantee safe, vibration-free lifting, even at extreme heights. Requiring no pit, they are easy to install and use, inside or outside.
A new product targeting industrial applications is now joining the range, opening up numerous opportunities for elevator companies, integrators and contractors. With a capacity up to 1500 kg, the new goods lift will go from 1300x1200 mm to 1700x1200 mm. It enables pallets and trucks to be carried easily, and offers substantial savings across many demanding goods lift applications.