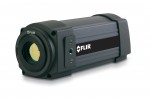 Continuous thermal imaging
Published: 13 December, 2018
Steel breakouts can be catastrophic process failures that are both extremely dangerous and costly. Monitoring the health of ladles and torpedoes using thermal imaging can greatly minimise the risk but a handheld infrared camera can only provide a periodic check on the health of these critical transport structures. ANT Automation reports it has overcome this limitation by developing a system that provides continuous thermal monitoring and at its heart is FLIR thermal imaging.
"Many steel mills have a handheld camera and they maybe go in once a week or every couple of days to take some pictures of the ladle," explains ANT Automation's Javier Barreiro. "While these surveys can provide valuable information, the probability of catching a hot spot is very low during a routine inspection. You could be in normal operation and have a refractory brick break creating a hot spot in less than a minute."
Continuous monitoring is clearly the answer but it isn't practical, cost-effective or safe using manual imaging. For many steel mills, ANT Automation's CIRA (continuous, infrared analysis) platform is providing a good solution. It is an integrated machine vision system that is totally automatic, requiring no human intervention.
Javier Barreiro continues: "We capture a hot spot in the early stages by analysing and tracking the history of the ladle. Every ladle has a unique ID and it is imaged from multiple angles during each use; historical data provides insight into any problem areas. The system differentiates between developing hot spots and normal plant activity such common splashes, spill-over or overflow."
W: www.flir.com