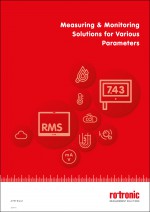 New catalogue now available
Published: 24 June, 2020
ROTRONIC says its latest catalogue features all the current products for its many measurement parameters with technical specifications; QR Codes to view Rotronic informative videos, and useful explanatory measurement theory.
Download a copy now – click here
#Temperature #Humidity #Moisture #Meteorology #Cleanrooms
#ATEX #Indoor CO2 #Differential Pressure #Water Activity
Rotronic manufactures an extensive range of precision measurement devices that can be relied upon. Sensor types are available for any application including ATEX rated dust and gas hazardous environments.
For continuous environmental monitoring, with all data available securely anywhere and on any device, the validated Rotronic Monitoring System (RMS) can provide the solution. Additional parameters can be monitored with easy sensor integration e.g. oxygen. RMS is fully modular and can easily be extended as monitoring requirements change.
t: 01293 571000
e: instruments@rotronic.co.uk
Click here for the full unedited version of the release as provided by the company