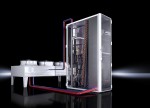 Cooling for all edge scenarios
Published: 08 November, 2018
RITTAL reports it has added 20 and 35 kW output classes to its portfolio of refrigerant-based IT cooling solutions, meaning it can now offer a cooling solution from 3 kW right through to 55 kW.
The company says the portfolio also includes a world first: a 35 kW hybrid version that will utilise indirect free cooling where conditions are suitable, making it highly energy-efficient.
Rittal says compact cooling systems are also available in high-redundancy configurations and these meet the need of today's IT infrastructure for high uptime – which is of particular importance for state-of-the-art edge computing solutions to ensure the uninterrupted flow of data.
Rittal says the innovative liquid cooling package (LCP) DX/FC Hybrid includes both a refrigerant circuit (DX = direct expansion) and a separate water circuit (CW = cold water). This means that the solution can deliver the required cooling output very efficiently, in line with external temperatures.
It can be a particularly cost-effective solution for locations with low to moderate ambient temperatures as it automatically switches to indirect free cooling when outside temperatures are low, using its external hybrid condenser with integrated free cooler. This use of indirect free cooling is key to helping lower operating costs.
e: information@rittal.co.uk
w: www.rittal.com/de_de/it-configurator
Click here for the full unedited version of the release as provided by the company