Busbar supporting system
Published: 19 September, 2017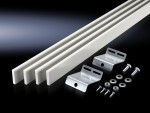 RITTAL, a leading global provider of industrial enclosures, power distribution, climate control and IT infrastructure, reports it has developed a new busbar supporting system for air circuit-breakers. The system has been developed to enable 4 x 120 mm x 10 mm coppers to be secured safely to the top and bottom of the air circuit-breaker.
Rittal says it has been carefully designed to ensure ease of use, maximum convenience and faster fitting for system integrators.
The company says the support, which is suitable for 600 and 800mm wide enclosures, is quick to install within Rittal's Ri4Power modular switchgear systems, speeding up the time needed for installing air circuit-breakers in Ri4Power and with only part number to order it simplifies the ordering process.
e: information@rittal.co.uk
w: www.rittal.co.uk / www.friedhelm-loh-group.com
Click here for the full unedited version of the release as provided by the company