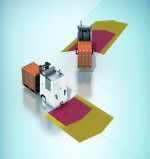 Ending stop-start frustration
Published: 08 November, 2018
SICK reports it has developed the Safe AGV Forklift, an innovative, PLd/SIL2-certified safety solution that enables a driverless forklift to continue to operate productively in an automated factory or logistics environment, even when the forks are in the load carrying position.
SICK says the Safe AGV Forklift solves a common stop-start frustration that slows operation and leads to wear and tear of Automated Guided Vehicles (AGVs) fitting with a forklift: When the protective laser scanning fields are infringed because the forks are down, the AGV must be brought to a safe stop.
Designed specifically for AGV forklifts with a drive wheel, the SICK Safe AGV Forklift integrates two SICK laser scanners providing protective fields in front and behind the vehicle.
t: 01727 831121
e: andrea.hornby@sick.co.uk
Click here for the full unedited version of the release as provided by the company