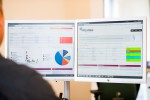 Shortlisted for two awards
Published: 12 September, 2018
ALCUMUS, together with its client William Hill, has announced that it has been shortlisted for two coveted awards: 'The Fraud Awards 2018 for Most Innovative In-Store Solution' and 'Risk Management Awards 2018 for Best Use of Technology in Risk Management – Partnership'.
As a market-leading provider of technology-enabled compliance risk management, certification and accreditation services, Alcumus says it entered the awards to showcase its Info Exchange software and the benefits implementing the software has brought to its client William Hill.
Since implementing the software nearly three years ago, William Hill reports it now utilises Alcumus' Info Exchange software for 12 applications including health and safety, security incidents, GDPR and Self Exclusion. With over 2,000 betting shops UK wide, investing in Info Exchange to assist with its crime prevention is where William Hill has seen the greatest benefit to date.
Click here for the full unedited version of the release as supplied by the company