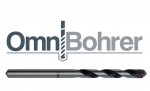 Multi-purpose drill bits
Published: 11 September, 2018
MAKITA says the new OmniBohrer range of drill bits joins its extensive range of high performance accessories and bits in this multi-purpose collection are suitable for use with a diverse range of materials including concrete, tile, brick, slate, limestone, wood, composite materials, aluminium and plastics, totally eliminating the need to switch between bit types.
The company says ultimately, the new OmniBohrer range is time saving while improving operator efficiency and accuracy.
The collection of 25 drill bits, ranging from 3 – 14mm diameter and lengths of 60 – 400mm, feature a high quality tungsten carbide tip that can be used for different applications across various industries. Tungsten carbide is more durable than many other materials because of its exceptional levels of toughness and hardness.
Click here for the full unedited version of the release as provided by the company