New industrial cloths
Published: 24 April, 2018
With the launch of its new WypAll ForceMax Industrial cloths, KIMBERLY-CLARK PROFESSIONAL says it is challenging manufacturing facility managers to reconsider their wiping choices, pitching the WypAll range of industrial cloths against traditional rags and laundered cloths used in plant and manufacturing settings.
"Have you ever considered the many ways in which your wiping choices affect your KPI's?," asks Simon Justice, manufacturing marketing manager at Kimberly-Clark Professional. "Given how important the correct decision is to achieving optimal productivity, isn't it odd that we don't think about it as we would hiring an employee? If your current wiping solution was interviewed, would it get the job?"
The company says thick and super durable, WypAll ForceMax – the #1 user-preferred industrial cloth – is consistently preferred by users over rags and laundered cloths and is designed for superior removal of the toughest, most ingrained, dirt across all types of surfaces.
Kimberly-Clark Professional says the WypAllForceMax absorbs two times faster, and two times more than rags and the embossed cloth provides bulk and extra scrubbing power for tough cleaning tasks without tearing or falling apart. WypAll ForceMax can absorb 40% more oil than rags and absorbs it five times faster, and compared with rags, WypAll ForceMax reduces disposal waste by up to 78% against average rag usage. Visit the Kimberly-Clark Professional website for more information - www.kcprofessional.co.uk/hirewypall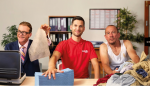 Click here for the full unedited version of the release as provided by the company