Hazards found in UK safety gloves
Published: 27 February, 2018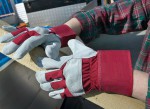 Following market surveillance carried out over two years ago on a number of EC type approved and CE marked leather safety gloves, ARCO a leading UK safety company, says it has revealed worrying evidence of carcinogenic dangers found in a number of safety gloves still available on the market.
In independent due diligence testing initiated by Arco, a sample of a leather welder's glove supplied by one distributor was found to contain illegal levels of Azo dyes, which are restricted substances of very high concern under REACH, due to being both carcinogenic and mutagenic .
Arco says what's more, illegal levels of Chromium VI, were also present in the test sample. Chromium III salts are used in the tanning stages of leather production, with Chromium III usually being present in finished products. However, small amounts of chromium III can be oxidised to form the hazardous and restricted Chromium VI. This chemical can cause serious skin irritation and allergic reactions.
Click here for the full unedited version of the reelase as provided by the company