Free technical guide
Published: 12 December, 2017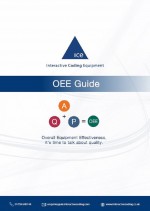 A new guide from coding and marking specialist INTERACTIVE CODING EQUIPMENT (ICE) helps to explain the importance and relevance of Overall Equipment Effectiveness (OEE) in ensuring an efficient production line and also the key role coding can play in its successful implementation.
The company says OEE has become something of a 'buzz' phrase as manufacturers seek to maximise efficiencies and throughput throughout their processing and packing lines. However, with production line operators under increasing pressure to deliver improvements and enhancements, there is a danger that the introduction of additional systems or measurement tools can be viewed with a degree of suspicion.
ICE says its Understanding OEE and its Relevance throughout the Production Line therefore stresses the importance of explaining the many benefits that OEE can bring to every part of the operation.
t: 0115 964 0144
e:enquiries@uk.interactivecoding.com
To download the guide https://goo.gl/KRL2P9
Click here for the full unedited version of the release as provded by the company