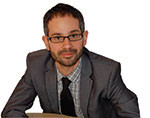 An opportunity not to be missed
Published: 15 November, 2017
From a business community's perspective it is clear that establishing how the UK manufacturing and industrial sectors adapt to a highly digitalised future (and benefits from the opportunity this brings) will be a fundamental factor of any future economic success. This is now more important than ever especially as investment by Britain's manufacturers has seen a reality check in response to the continued political uncertainty.
According to the EEF/Santander Annual Investment Monitor, while demand conditions should be spurring on investment just one third of companies say that Brexit has had no impact on their plans. A similar proportion are only investing to satisfy current plans and waiting for clarity on any deal before investing further, while at the other end of the spectrum thirteen per cent of companies are holding off investment altogether until there is further clarity on a Brexit deal.
Taken together this leaves the outlook for investment by manufacturers finely balanced with only a narrow majority expecting to be investing more on new equipment in the next two years. While the reticence emanating from other parts of the global economy has diminished, the survey reflects increasing Brexit-related uncertainty.
This indicates that while manufacturers may be investing to satisfy current plans or, expand capacity, they are not investing in improving their production capacity. However improving production capacity through investment and uptake of digital technologies including automation in the industrial sector has to be central to our future and must be seen as a prioriy. Such investment will help to improve our national productivity, creating higher value jobs, and arming our workforce with the digital skills required in the decades ahead.
Professor Juergen Maier who led the recent Industrial Digitalisation Review, published last month, highlighted that Government and industry should create a significantly more visible and effective ecosystem that will accelerate the innovation and diffusion of Industrial Digital Technologies as well as creating more awareness. This includes a National Adoption Programme piloted in the North West, focused on increasing capacity of existing growth hubs and providing more targeted support. Additionally the Review recommends up-skilling one million industrial workers to enable digital technologies to be deployed and successfully exploited through a Single Industrial Digitalisation Skills Strategy.
I agree with Chris Richards head of business environment policy at EEF who commented that the Review highlights the barriers to adoption of new digital technologies that could stop us moving up the ranks, particularly the need for better leadership and a culture shift on innovation to boost adoption, especially among SMEs. But importantly he stresses the opportunities are significant, and that the digitisation of manufacturing is real and is happening at pace, but this speed could create major winners and losers unless all of industry moves together. This is an opportunity that the whole of UK industry can be a part of and it's also a process we can't afford not to be.