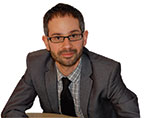 2017 – a new manufacturing era?
Published: 03 January, 2017
2016 will be a year I'm sure none of us will ever forget. I'm not afraid to say that I hope 2017 will be relatively uneventful. Irrespective of political events that may occur in the coming 12 months, many British manufacturers will need to get a handle on Industry 4.0 and transforming to a smart manufacturing era. But while industry awareness is growing, just one in ten (11%)(based on a recent EEF report) say that the UK is geared up for this crucial next industrial age. This suggests that in terms of being Industry 4.0 ready there is still some way to go.
The heralding in of this new period of smarter production, supply chains and products will boost the number of high-skilled jobs in the UK, but UK manufacturers will also need to be conscious of the speed of change, which the EEF says will be unprecedented, leaving little room for complacency. Without industry and supply chain leadership, coupled with a supportive industrial strategy, the UK could be left behind.
Government has to play a significant role during this transformation that will take place over the coming years, and should ensure that its new industrial strategy provides the right building blocks to enable UK manufacturing to successfully undergo this transformation.
I agree with Lee Hopley, chief economist at EEF, who says that the UK's success in this global industrial transformation will hinge on manufacturers' strategies and ambitions. "4IR goes far beyond simply investing in new technologies and techniques – this new era requires cultural shifts, new business models and the ability to adapt and innovate. Above all, it requires strong leadership."
She is right in saying that manufacturers are ready to do the heavy lifting, but their efforts must be supported across the sector and supply chains and backed up by Government through its new industrial strategy. If we get this approach right then the UK can expect to be at the forefront of this global industrial wave – get it wrong, however, and the UK will be left trailing in its wake."
As 2017 begins we have to enter the year with a sense of hope and optimism that both government and manufacturers can take advantage of the opportunities that can be realised through transforming to smart engineering future, and trust that as Brexit negotiations get under way, the needs of UK's manufacturers' are met with pragmatism.
May I wish all PWE's readers and advertisers a healthy and prosperous 2017.