Improved reliability
Published: 20 July, 2017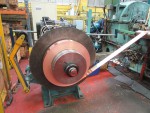 Samuel Taylor, a specialist manufacturer of bimetallic strips, reports it has improved the reliability of its production line by retrofitting two applications with ABB variable speed drives (VSDs). The production line consists of a leveler, grooving and inlay machines, a bonder and a recoiler. The recoiler originally used a DC motor but the need to replace the commutator brush gear meant the motor was often in for repair.
Adford CNC, a specialist in CNC machine tool servicing and repair, refitted the recoiler with a 5.5 kW AC motor, controlled by a 7.5 kW ABB general purpose drive, ACS580.
A second ABB general purpose drive was installed on the motor on the bonder.
t: 01925 741517
e: layla.hewitt@gb.abb.com
Click here for the full unedited version of the release as provided by the company