Warehouse labelling
Published: 19 January, 2017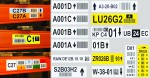 BEAVERSWOOD says the management of any warehouse/stores needs an effective labelling and identification system, stock needs to be identified and in its rightful place in order to maximise order picking and minimise costly errors.
The company says for many SME's having a full barcoded order picking system isn't feasible due to costs but a small outlay to produce a labelling system can help in achieving lower picking times, reduce errors and often help in increasing customer satisfaction and retention.
Beaverswood says it manufactures labels of all kinds, magnetic or self-adhesive for pallet racking and for shelving and on various materials to suit all applications including cold storage and its experienced team can also install them, with the minimum of disruption.
t: 0118 979 6096
e: sales@beaverswood.co.uk
Click here for the full unedited version of the release as provided by the company