Dust free workshop
Published: 17 January, 2017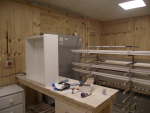 Devonshire Pine reports it has completed the installation of 4 large VertEx dust extraction units from AIRBENCH, creating a wide area dust control zone.
Devonshire manufactures a wide range of pine and oak furniture and when faced with a dust issue in its finishing shop, it contacted AirBench, who were asked to specify a solution that not only solved the dust issue but also worked within Devonshire's space constraints, because of these constraints, traditional extraction systems had proved ineffective.
Devonshire was already familiar with AirBench products and is a long-standing user of AirBench downdraught benches for smaller components such as drawer fronts.
AirBench recommended the installation of multiple VertEx modular dust extraction systems VertEx units are self-contained, so no installation or ducting was required.
Click here for the full unedited version of the release as provided by the company