New remote testing
Published: 05 October, 2016
TME, a specialist in temperature test equipment for legionella risk management, has announced streamline water checks with TC Wall Ports are now available.
TME says spot checks on boxed in pipes or high level tanks are faster and more practical with remote thermocouple monitoring points located up to 20 metres away and each port houses a thermocouple connection, linked to the water outlet by a fine wire sensor so customers can simply plug in a thermometer for an accurate, instant result every time.
Now available in red and blue for hot and cold water points and said to be ideal for hot and cold feeds into tmvs, TME says customers can apply a barcode to achieve paperless temperature recording using its MM7000 barcode scanning thermometer.
t: 01903 700651
e: sales@tmethermometers.com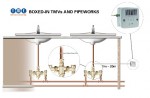 Click here for the full unedited version of the release as provided by the company