Precise flow control
Published: 29 September, 2016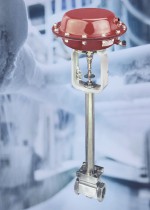 When precise, reliable flow control is required in challenging ultra-low temperature applications, such as cryogenic or other similar situations, Badger Meter control valves are said to be an ideal choice. Available from liquids handling specialist PUMP ENGINEERING, the extensive Badger range includes models such as the Series 9000, an ANSI Class 300 globe style valve with bolted bonnet and post-guided inner valve.
They are also available as specially configured options, for example Orion Control Valves which have extended bonnets for optimum protection against extreme temperatures.
The company says these valves are available in 1", 1½" and 2" pipe sizes with body, bonnet and inner-valve in 316 S/S as standard, or in Alloy C as an option and the standard valve body, configured as a flangeless / NPT version, enables installation using NPT fittings or can be clamped between matching companion flanges. They are also available with conventional flanges in either the same nominal size as the valve body, or oversized flanges can be adapted to smaller bodies.
t: 01903 730900
e: sales@pumpeng.co.uk
Click here for the full unedited version of the release as provided by the company