Faster glass tempering
Published: 19 July, 2016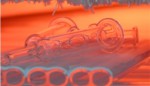 HERAEUS NOBLELIGHT says recent extensive tests in its Applications Centre have demonstrated that the tempering of glass, heat-formed packaging products used in the medical and pharmaceutical sectors is five times faster and significantly more energy efficient with the new MAX oven than tempering carried out using conventional electric heating techniques.
In addition, the compact oven requires much less floor space than a conventional oven and individually-controlled oven elements can be arranged one behind the other in a modular fashion to allow very fast product change-over.
Packaging for the pharmaceutical and medical sectors is often in small glass bottles or ampoules. These need to be safe and clean but the special shape of this glass packaging makes its manufacture something of a challenge, the new MAX infra-red oven, offers significant user benefits.
t: 0151 353 2710
e: ian.bartley@heraeus.com
w: www.heraeus-infraredsolutions.co.uk
Click here for the full unedited version of the release as provided by the company