Reduced lead times
Published: 14 July, 2016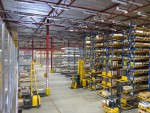 SANDVIK reports its Distribution Center Venlo (DC Venlo) in the Netherlands has undergone a major refurbishment and upgrade project while also introducing new product lines and initiatives to advance its service provision for customers and this includes reductions in international lead times by weeks.
An inauguration ceremony was held at the centre to finalise the project which has seen the moving of Kanthal Resistance, Thermocouple and Copper Nickel products to DC Venlo thereby launching the additions of resistance wire and thermocouple materials to the facility's service offering.
The company says this will result in increased service through shorter lead times for customers and the products will now be more readily and easily available to customers across Europe, the Asia-Pacific (APAC) region, China and India.
e: malin.pessa@sandvik.com
Click here for the full unedited version of the release as provided by the company