Queen's Award for Enterprise
Published: 05 May, 2016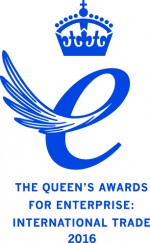 MCP, the Solihull based consultancy, providing asset management consulting and training services, has announced it is celebrating the award of the UK's highest accolade for business success -The Queen's Award for Enterprise: International Trade 2016.
The Award recognises MCP's growing export success to 50 countries worldwide, with recent significant increase in sales to North America, Asia, Europe and the UAE where a complex change management programme for Dubai Airports has been completed.
MCP says its extensive portfolio of business improvement consultancy and training services has allowed it to support national and multinational blue-chip organisations' drives to improve performance and reduce cost.
Peter Gagg, MDsaid: "We're honoured to have been recognised for our contribution to International Trade. For the next five years, we can display the emblem with pride and to further our success in the UK and overseas."
e: jwilkins@mcpeurope.com
Click here for the full unedited version of the release as provided by the company