Chemical cleaning pump
Published: 23 March, 2016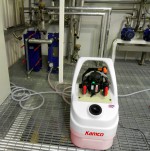 When a food processing plant in North Yorkshire found that oil coolers were running too hot, and heat exchangers used for pasteurising food were struggling to keep up, the cause was quickly identified as being scale and corrosion debris in the water side of several plate heat exchangers.
The company needed a quick way to chemically clean the heat exchangers, ideally without stripping them down and losing too much production.
The solution was a KAMCO Scalebreaker C210 chemical cleaning and descaling pump, which can be used to clean plate heat exchangers and many other types of heating and cooling equipment.
t: 01727 875020
e: keithm@kamco.co.uk
Click here for the full unedited version of the release as provided by the company