Industrial fan selector
Published: 23 March, 2016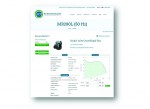 AIR CONTROL INDUSTRIES specialises in the design, manufacture and supply of industrial fans, blowers and accessories.
ACI says to assist visitors to its website, it has developed a new ACI Fan Selection feature. Available from www.aircontrolindustries.com the selector helps visitors quickly process the selection of the optimum ACI product. Entering the operating parameters using a simple user interface, users will be given a clear list of fans that meet the criteria entered.
ACI says the fan selection process has been designed for easy customer use, so as well as offering results based on operating parameters, if the user knows what fan line they would like to select, they can still go to "Fan Type" and make a selection.
t: 01297 529242
e: matthewforknall@aircontrolindustries.com
w: www.aircontrolindustries.com
Click here for the full unedited version of the release as privded by the company