Vouchers for selected products
Published: 17 November, 2015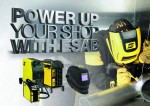 ESAB WELDING & CUTTING PRODUCTS has announced a limited-time promotion on the purchase of selected arc welding equipment and accessories, now until December 31, 2015 for customers in the UK. ESAB says receive a high street shopping voucher in the "Power Up Your Shop with ESAB" promotion simply by purchasing from ESAB's POWER LINEUP of solutions:
Origo MIG/MAG, and TIG arc welding systems (Origo Mag C201, Mig C250, and Tig 3000i AC/DC and 4300i AC/DC), Caddy Tig welders (2200i AC/DC TA33, TA34), and Aristo tech HD helmet (with or without Eco Air PAPR combination). The company says the vouchers range from a £10 voucher for the purchase of an Aristo Tech HD helmet to an £85 voucher for the purchase of an Origo Tig 4300iw AC/DC system.
"These vouchers make it a great time to power up your workshop with leading-edge ESAB products that offer outstanding performance and reliability," says Derek Harvey, ESAB marketing and aftersales manager.
w: www.esab.co.uk/poweruprebate
Click here for the full unedited version of the release as provided by the company