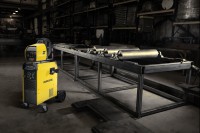 Fabricator series launched
Published: 24 August, 2021
For fabrication and construction firms that need reliable and efficient welding systems that can withstand rugged industrial environments, ESAB Welding & Cutting Products has announced it has introduced its Fabricator EM 401i, EM 401iw and EM 501w inverter-based welding power sources and associated wire feeders for MIG/MAG and flux cored welding.
The 401iw and 501iw feature a factory-integrated water cooler. Fabricator controls simplify operation by optimising arc performance for the wire and gas combination selected with predefined settings, and operators can independently adjust wire feed speed and voltage at the feeder. For process flexibility, Fabricator also provides an MMA welding output.
These units use inverter-based technology to increase welding performance to improve mobility with lighter weight, increase energy efficiency and offer more advanced controls to boost weld quality and productivity.
Click here for the full release
w: esab.com